The Quantified Self is the idea that by tracking things about your body you can live a happier and healthier life. Hardware devices like the Fitbit and Withings scale measure your daily activity and weight respectively so people can set and reach activity and weight goals. Apps like Lose It are tapping into this idea using a software-only approach: Lose it helps you lose weight, not by putting you on a diet, just by having you keep track of everything you eat. Every day you enter all the foods you eat into the app, and it tells you how many calories you consumed. You can also put in how much, and what type of exercise you did each day, and Lose It tells you how many calories you burned.  The result is you can see the amount of calories you burned, relative to the amount of calories you took in.
I have several friends who swear by this app. Lose it isn't telling you anything you don't know (eat less, and exercise more if you want to lose weight), but what it is doing is making it very easy for you to see how your actions are affecting your weight in a specific way on a daily and even moment by moment basis. In addition to achieving goals, quantifying the self leads to a sense of confidence and control where before there was confusion. And in doing so it makes us feel better.  This is the crux of the quantified self movement. Recording and analyzing everyday data can help us win at the game of life!
As my friend Lauren Bacon has pointed out, fertility charting fits right in to the Quantified Self movement. Women who chart their fertility record their waking body temperature, cervical fluid viscosity, and other data each day, and over the course of each menstrual cycle get a detailed picture of their reproductive health, and sometimes more!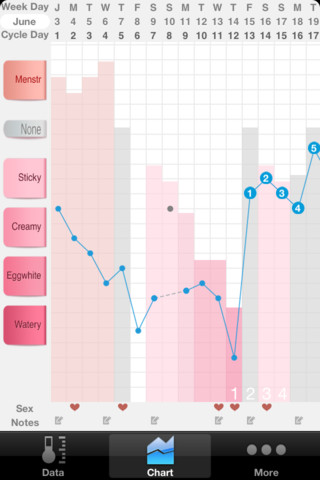 Kindara Screen Shot © Kindara 2012
Cervical fluid viscosity is a proxy for estrogen level. Basal body temperature is a proxy for progesterone.  And as any high school student can tell you, hormones are powerful influencers of how we feel, think and act, and why our bodies do the things they do.  Just imagine if your menstrual cycle, and all the fluids, feelings and fluctuations that went along with it were no longer a mystery.  Imagine knowing just what was going on, and why.
By recording your daily fertility signs a whole world of possibility opens up for you! While it's true that fertility charting can be, and often is used to achieve or prevent pregnancy, the benefits of it don't stop there. Fertility charting can answer important questions about our ovulation, luteal phase, cycle health, thyroid function and more.  I have friends who have finally figured out the root of several food allergies, from charting their fertility.  I myself have learned that a diet high in animal fat keeps my cycles regular. One reason I'm so excited about what we're doing at Kindara is that as more and more women start quantifying their fertility, we'll start to generate new knowledge about fertility for the benefit of humankind, creating a virtuous feedback loop that will help each woman feel calm and confident with her fertility in her specific situation.
I envision a future where more and more women are taking an active role in their own health care with fertility charting.  How about you? If you're currently charting your cycle, tell us in the comments what you've learned so far, and how it's changed your life!